Imagine if Saitama had the worst sense of direction, like Zoro, and ended up in a world of magic. That's Mashle: Magic and Muscles for you. The series quickly won over fans with its easygoing protagonist and his complete lack of concern for most situations. Establishing itself as one of the fan-favorites of 2023, the show wasted no time in announcing its Season 2 shortly after Episode 12 aired. As we look forward to the next year, here's your comprehensive guide to what you can expect from Mashle Season 2.
Mashle: Magic and Muscles in a Nutshell
The story unfolds in a society where magic reigns supreme, and your worth is determined by your magical prowess. Those without a specific facial scar, a mark of magic, are considered incapable of practicing it. Born without this fortunate scar, they face execution to preserve the Magic Society's purity.
Mash, born into this unforgiving society without a mark, is given an ultimatum by the authorities: either compete to become the 'Divine Visionary' and force others to accept his existence, or face immediate death. Mash opts for the former and enrolls in the Easton Magic Academy.
The narrative tracks Mash's journey as he keeps his true abilities hidden and strives to secure his place in this magical world. The story encompasses various arcs, and Season 1 covered the initial two: the Easton Enrollment Arc and the Magia Lupus Arc. The conclusion of Episode 12 hinted at Innocent Zero's ambitious plans.
[Trivia: The series originally aimed for an all-male main cast, but Lemon was introduced at the request of the editor.]
read also : Bleach TYBW Arc Part 3 Release Date, Check Out Trailer Drops
Mashle Season 2 Release Date
While the official release date for Mashle Season 2 hasn't been disclosed, it's expected to grace our screens no earlier than January 2024. This places it within the Winter 2023 anime lineup. Fans will be pleased to hear that the same cast and A-1 Pictures, the animation studio, will continue their roles from the previous season.
[Warning: The upcoming section may contain manga spoilers.]
【BREAKING】MASHLE: MAGIC AND MUSCLES Season 2 is coming January 2024
What's in Store?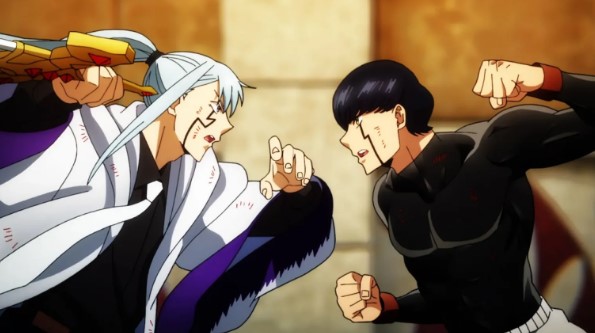 Mashle Season 2 will kick off with the Execution Arc, immediately following the revelation of Mash's secret. The arc will center on Mash's trial and subsequent judgment, spanning four chapters starting from Chapter 4.
The upcoming season will delve into several exciting arcs, including:
Divine Visionary Selection Exam Arc (Chapter 44 onwards): Follow Mash's quest to become the Divine Visionary.
Divine Tri-Magic-Athalon Final Selection Exam Arc (Chapter 75 onwards): Witness the cataclysmic events concluding the selection exam, as Mash faces his most formidable adversary yet.
Eclipse Arc (Chapter 103 onwards): Experience Mash and his friends' rigorous training as they prepare to confront Innocent Zero once more.
Mashle Season 2 is anticipated to wrap up the 'Divine Visionary Selection Exam Arc,' paving the way for the next storyline in Season 3. With numerous thrilling twists and turns in store, fans should buckle up for a rollercoaster ride.
In Closing
The realm of magical anime often features main characters wielding game-changing spells that render them nearly invincible against their foes. While a similar concept applies to Mash, his victories primarily stem from his adversaries' ignorance of his inability to use magic.
This unique premise is skillfully explored by Innocent Zero, propelling the story into uncharted territory where the protagonist is utterly defenseless against adversity. Brace yourself for a season packed with entertaining and exhilarating situations that will captivate fans.
If you're enjoying our content, don't forget to subscribe to our weekly newsletter for more specialized updates!"