The Under Ninja Anime" adapted from a Japanese manga series written and illustrated by the talented Kengo Hanazawa, has taken the anime community by storm. Serialized in Kodansha's Weekly Young Magazine since July 2018, "Under Ninja" has made its mark in the world of manga. And now, it's poised to make its grand entrance into the anime world with an exciting adaptation. In this article, we will explore the details of the "Under Ninja" anime adaptation, its plot, characters, and why it's worth watching.
A Highly Anticipated Announcement
On September 6, 2021, anime enthusiasts received exciting news: "Under Ninja" has officially been greenlit for an animated television series adaptation. This development sparked waves of excitement among fans, and the countdown to its release began.
Bringing "Under Ninja" to life on the small screen is a talented creative team. The anime is produced by Tezuka Productions and directed by Satoshi Kuwabara. Keiichirō Ōchi oversees the scripts, ensuring a faithful adaptation of the manga's intricate storyline. Character designs are masterfully crafted by Nobuteru Yūki, adding depth to the characters' personalities. And to set the mood and intensity, Shōta Kowashi composes the music that accompanies the series.
What Is "Under Ninja Anime"?
"Under Ninja" is a modern-day ninja anime that follows the story of Kuro, a loner high school student recruited by a secret ninja organization to carry out international assassinations. Initially reluctant to accept the role, Kudo eventually embraces his new ninja identity.
Plot Summary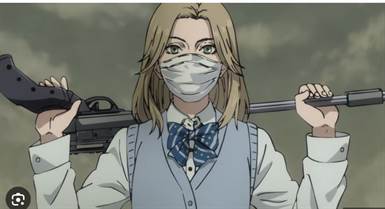 The story of "Under Ninja" unfolds in a world where ninjas still exist in secret. After World War II, the Allied command in Japan established a new agency to help manage terrorism and violence in the Pacific region. This agency was comprised of ninjas, initially tasked with handling domestic affairs. Eventually, this program evolved into its current form, overseeing 20,000 ninjas in various national and international matters.
Read also : "Spirit of Wonder Anime: What's It All About?
Kuro's Journey in "Under Ninja"
Kuro is one of these ninjas. Unable to find a job and spending his days in his apartment, Kuro's life takes a dramatic turn when Kato, a mysterious character, appears before him. Kato entrusts Kuro with the mission to infiltrate a school, setting the stage for a series of intriguing events. To accomplish this, Kuro seeks the help of his neighbor, Kawado, who agrees to pose as his mother and contact the school, indicating that Kuro will be transferring.
Kuro initially hesitates to accept the role, but he eventually embraces his new ninja identity. He realizes that he can use his skills to help people and make a difference in the world.
Characters
Here are some of the most compelling characters in the series.
Kuro Kumo: Kuro is a young man, a NEET, and socially awkward. Although he claims to be 17 years old, his mature appearance often leads to him being mistaken for someone older.
Kato: Kato is Kuro's superior in the agency, a highly skilled ninja who was sentenced to death and subsequently escaped.
Kawado: Kawado is Kuro's neighbor, who is supposed to be the only woman in his building. She is a kind and cheerful woman.
Why Should You Watch "Under Ninja" Anime?
"Under Ninja" is a well-executed and entertaining anime that is sure to appeal to a wide range of viewers. The series features a unique and intriguing premise, a diverse cast of characters, and stunning animation. If you're a fan of action, comedy, and coming-of-age stories, it's definitely worth watching.
Conclusion
"Under Ninja" is a unique and entertaining anime that is sure to appeal to a wide range of viewers. The series presents a captivating story, a diverse cast of characters, and stunning animation. If you're looking for a new anime to watch, then "Under Ninja" is definitely worth checking out."